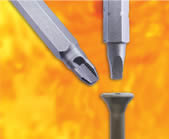 It's not only a square, It's a POZISQUARE
POZISQUARE SCREWS :
• DRIVE WITH A SQUARE BIT!
• DRIVE EVEN BETTER WITH A POZISQUARE BIT and

• WON'T STRIP
• CAN DRIVE OFF-ANGLE
• ALLOWS FOR MORE TORQUE
What makes Pozisquare different than any other brand of fastener?  Pozisquare was engineered with our patented ACR technology.  There are ribs on the driver bit that engage in a patented recess to reduce stripping, provide increased torque, enhance off-angle drivability and offers a stick fit that makes screw driving easier.  ACR was originally designed for the aerospace industry.  It is commonly used in the automotive, OEMs and even with NASA.
Pozisquare was designed to work best with the Pozisquare driver bit however a standard square driver will work as well. Most Pozisquare packages come with a square and a Pozisquare driver bit for your convenience.
The Pozisquare drive system is commonly used in Europe and with some select manufacturers in the U.S. It is an exclusive brand to Lowe's Canada. Each category of Pozisquare fasteners was designed to solve many of the common problems associated with lesser quality screws. Read the benefits and features on the following pages to learn why Pozisquare is the brand of choice.